Introduction
The professionals at Elite Roofing are one of the leading commercial, roofing contractors in the country. Our roofing installers are trained and certified in TPO, PVC and EPDM roofing systems from GAF and Versico and other manufacturers.
Our roofing installations have been recognized by GAF, the largest roofing manufacturer in North America. Elite is rated as one of the top one percent among all roofing companies in the country. This experience and skill level provides your building's new roof with the quality and workmanship that you expect.

Trained, certified & manufacturer
licensed in TPO, PVC, EPDM,  GAF,
Versico and others.
Authorization capabilities for 10, 15/20 and 30 year NDL warranties
Fully adept in all aspects of waterproofing, customized roofing sealants and coatings
Fabricate and install standing seam metal roofs and copings to all specs
Commercial guttering and downspouts
Quick emergency response for new, as well as "in process" and completed service repair work
Owner management with over 20 years hands-on experience
Multiple crews available – seasoned in flat, slate and shingle roofing systems
Job sites executed throughout any/all demographic areas with safety, efficiency and cleanliness
Client referrals available upon request
Request a quote on any new roofing system for your commercial buildings and any type of repair work. Our team will be happy to schedule an evaluation of any or all of your roofing needs.
We will submit a detailed analysis which provides the best options for your new roof with an understanding of your budget and needs.
A Partial Sample of Our Commercial Customers:
Bassett Furniture, retail center
Mana Contemporary, fine art storage facility
Bell Works, office and retail building
Clardige Hotel, Atlantic City
Acme Manufacturing, manufacturing plant
College Plaza Shopping Center, retail shopping center
Asplundh Corporate Offices, corporate headquarters
Princeton Plaza Shopping Center, retail strip center
Bottom Dollar Food Complex, supermarket
Tradesman International, school
Lockheed-Martin, AEGIS missile defense facility
Hensel Phelps, largest private-owned contracting firm in U.S.
Glenn Point Town Home Coomunities, condominiums
Klein Management, real estate management company
Sant Properties, owners of over 2 million sq. ft. of roofing
UPS, Distribution Center
Evans Worldwide, Warehouse distribution Center
McGuire Air Force Base, personnel housing
SSH Real Estate & Management, multiple building projects
Chipotle Retail Restaurant, retail restaurant
Safety and Fall protection is our first priority in the evaluation of any of our new roofing projects.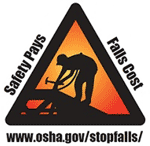 Certifications
Roofing Companies who excel in workmanship, service and responsiveness

The GAF "Master 10 Certificate of Quality" Award is awarded for a commitment to excellence and exceptional customer satisfaction by earning GAF's highest quality installation inspection rating of "10" on a roofing installation.
GAF selects fewer than 3 out of every 100 roofing contractors for our factory-certified commercial contractor program. GAF provides our craftsmen with extensive training and support to help ensure proper material installation, improve the installation process, and enhance material capabilities. GAF guarantees include coverage for workmanship and are available through this elite contractor force.
View Our Recent "Tens" awarded by GAF:
"GAF is one of the leaders within the roofing industry today. They are extremely supportive of providing companies such as Elite Roofing USA with value-added training to our craftsmen. We take great pride in our Master Select status. We look forward to continuing to grow our company with the partnership we have with GAF."
—Paul Cooper
President, Elite Roofing USA
Philadelphia, PA
Certified Since 1990
Licenses
Master Select Program from GAF
The top one percent of roofing companies.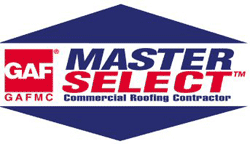 The GAF "Master Select" award is assigned to roofers who exhibit experience, quality and volume in their business.
Elite Roofing USA is proud of their Master Select status and their certified roofers take great pride in being rated among the top 1% of the roofing companies across the U.S.
We are proud to be selected by GAF as a "Master Select" company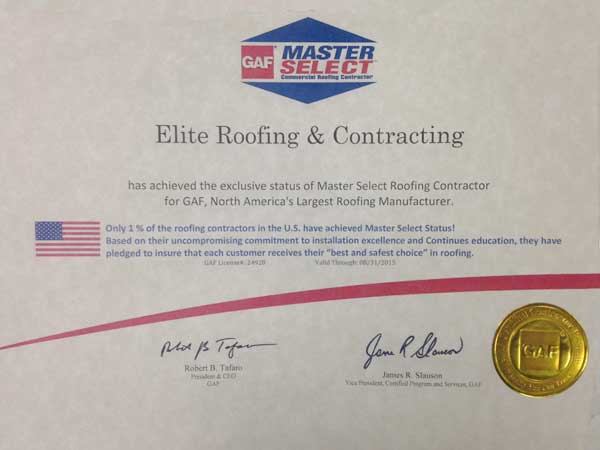 GAF President's Club
GAF, North America's largest roofing manufacturer, developed the Presidents Club Award for GAF Master Elite contractors who excelled in workmanship, service and responsiveness. Elite Roofing USA has been recognized for the following: their long-standing support in GAF products, their success in offering homeowners peace-of-mind in GAF warranties and their attention to detail in all GAF roofing systems.
Elite Roofing USA has been a GAF Master Elite contractor since 2006. These contractors represent only 3% of all roofing contractors nationally, so the President's Club Award truly represents "the best of the best"!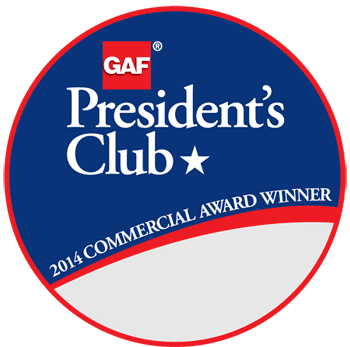 It's an achievement that Elite Roofing USA is very proud of, and it's made possible by every member of our team.
Each Excellence Award we earned is explained in the letters below. He outlined the Consumer Protection, Training, and Installation Excellence and we'll post the descriptions below to give you a clear sense of each one.
Consumer Protection – This award recognizes those contractors that best protect their clients with m system selling and enhanced warranties. The contractor must register a minimum of 100 enhanced warranties in a calendar year. Elite Roofing USA. registered over 1,000 in this period.
Training Excellence – This award is for contractors that are committed to training and continuous improvement. A minimum of 10 employees must pass the Pro Field Guide Test or attend a CARE Seminar. Elite Roofing USA provides multiple trainings for its employees annually in addition to the minimum requirements of the program.
Installation Excellence – This award is for contractors that consistently install with a very high level of quality. Must have a minimum of 15 perfect 10 installation scores as rated by GAF's own inspectors following registrations of extended warranties (Golden Pledge and Diamond Pledge NDL guarantees).
Elite Roofing USA. is one of less than the top 3% of contractors nationwide who is qualified to be a Master Elite Contractor with GAF. The requirements to earn Master Elite status include, being in business for a minimum of 7 years, possessing an "A" standing with the BBB, being financially secure, maintaining a good standing with Material Distributers, and maintaining an 8 out of 10 Installation Inspection score. Because Elite Roofing USA meets these requirements; we can offer a GAF Golden Pledge Warranty. A Golden Pledge Warranty is a 50-year, non-prorated Material Warranty and carries a 25-year Workmanship Warranty.
Again, we credit the wonderful team at Elite Roofing USA and every one of our valued customers for making these honors possible. If we haven't handled roof repair or replacement yet at your home or property, give us a call and see for yourself how we earned each one of these accolades from GAF.