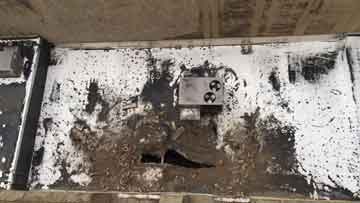 Do not do anything that may put yourself in danger, your safety is the most important item. If the damage was caused by high winds and debris, stay away from your windows and glass. Do what you can to minimize further damage by water entering the structure. Do NOT attempt to repair the roof damage yourself.
We will come out to help as soon as we safely can. Remember things can be replaced, people can't. Immediately after the storm we will come to your business to conduct a thorough inspection of your roof, fascia boards, flashing, and any interior damage.  We will also inspect all areas of the roof, chimney and exterior to make sure that there was no other damage.   We can provide emergency services that will allow the elimination or reduction of additional environmental damage.  As soon as we can determine what needs to be repaired or replaced we will provide you with a written estimate.
---
Roof Collapse
3 Hurt After Bricks Crash Through Lululemon Store in Center City
Three women were hurt after bricks crashed through the roof of a popular Center City store. Bricks from a building on 1529 Walnut St. fell and crashed through the roof of Lululemon Athletica store on 1527 Walnut St., Philadelphia.